Working with Toni Blake has never been more AFFORDABLE
Toni Blake is one of the apartment industry's most popular speakers with her unique presentation style of "laugh while you learn" combining education, comedy and a large dose of enthusiasm. She is a popular Keynote Speaker at KHC, SAHMA Conferences, National CARH and many other affordable housing conferences around the country. She knows how to inspire excellence while making you laugh and her story telling will touch your heart. Toni Blake knows how to bring on audience to it's feet with a life-changing motivational experience. These educational sessions are specifically geared for affordable housing.
Each of these presentations would be appropriate for a keynote address or breakout sessions, and adjustable to fit your time slot.
Affordable Housing Programs
Toni Blake's 5 Sensory Impacts of Human Connection
5 Sensory Impacts
One of the deepest needs in our humanity is a community connection. Human connection is one of the most rewarding elements in life. It has the power to deepen the moment, strengthen the bonds between people, inspire change, and build trust. Our sensory system interprets and creates the perception of the world around us. Pandemic protocol separated us, and our current socio-economic climate highlights the divisions between us. Human connection is a choice, an intentional plan, a practiced skill, and the "secret sauce" to total team success. There has never been a more critical time for us to build authentic relationships. Each sensory choice we make guides and directs the quality of our interactions. Toni shows you how to create conditions for human connection throughout the resident experience by intentionally practicing five human sensory impacts: voice, hearing, messaging, energy and tone.
Meeting Planning Notes:
Each member of your team should be invited to participate in this session. It is appropriate for both conventional and affordable properties. The material can be presented as a 90 minute keynote, or a one hour breakout. It can be seamlessly integrated with your event theme and company goals. Every program is customized to your specific need. Toni will you through the process during your free consultation.
10 Characteristics of Resourceful People
Building a MacGyver Culture
Resourcefulness is the ability to quickly find clever ways to overcome difficulties. Historic inflation on the heels of a global pandemic have created a challenge that demands a resourceful culture. It's time to meet the challenges head-on with a willingness to embrace evolving possibilities, opportunities, thoughts, views, and suggestions. The pivot has replaced standard procedures! Toni Blake establishes ten key characteristics of a "MacGyver Culture".
Never Quit Team Spirit – The UPside of downtimes
Permission for Collaboration & Creative Ideas
Open Minded Vision: Redefining Possibilities
Workflow Solutions for Swift Implementation
Optimize Time & Talent
Seek Innovations to Reduce Costly Mistakes
Practice Patience: Seek Clarity Before Acting
Simplify Procedures
Imaginative & Intelligent Problem Solving
Celebrate Success
A MacGyver Culture requires top-down permission for innovation and forward-thinking change, with clear workflow solutions in place for quick approvals to redirect resources. The resourceful mindset finds a way!
Meeting Planning Notes:
This program works well for a 2-3 hour general session, or condensed for a 90 minute breakout session.
Leading with Core Values
The Art of Culture
Current events have caused a spike in anxiety and depression. More than 42% of Americans have recently experienced symptoms of both. What is your vision for your team culture and character development through difficult times? Now, more than ever, leadership requires intentional executive focus on building character, mental wellness, and policy aligned with creating a supportive culture. Successful communication requires team building, and optimistic management. Learn creative ways to express your humanity as your most significant amenity with honest, human interactions based on core values. Toni Blake brings her unique combination of comedy & expert advice to share leadership goals that re-enforce your company culture positively. She'll show you how to lead your teams, lift their human spirit, revive their passion for excellence, and reinforce the importance of human connection.
Meeting Planning Notes:
Your total team will benefit from this session, whether you manage conventional or affordable properties. The material can be presented as a 90 minute keynote, or a one hour breakout. It can be seamlessly integrated with your event theme and company goals. Every program is customized to your specific need. Toni will guide you through the process during your free consultation.
It's time to get your wings
Wings of Positive Change
Being a great human being is not about a single act of kindness. Great human beings have daily habits that inspire relationships and make the world around them a better place. When we take those habits into our work life, we find reduced conflicts, and improvements in resident retention, relations, and overall improved well-being. Toni will share with us small ways that we can easily adjust our wings to positively impact those we encounter by balancing authority with compassion, demonstrating integrity, and acting with kindness. We will learn how to lift our daily routines, identify what is dragging us down and how to build up the momentum to maximize the difference we make in the lives of the residents that we serve.
Meeting Planning Notes:
This character development presentation is perfect for your total team as a stand-alone program for a one-hour time frame, but can be extended to 90 minutes. It can be seamlessly integrated with your company culture in a half-day schedule. This program is suitable for conventional and affordable audiences. Remember, every program is customized to your specific needs and event goals. Toni will guide you through this process during your free consultation.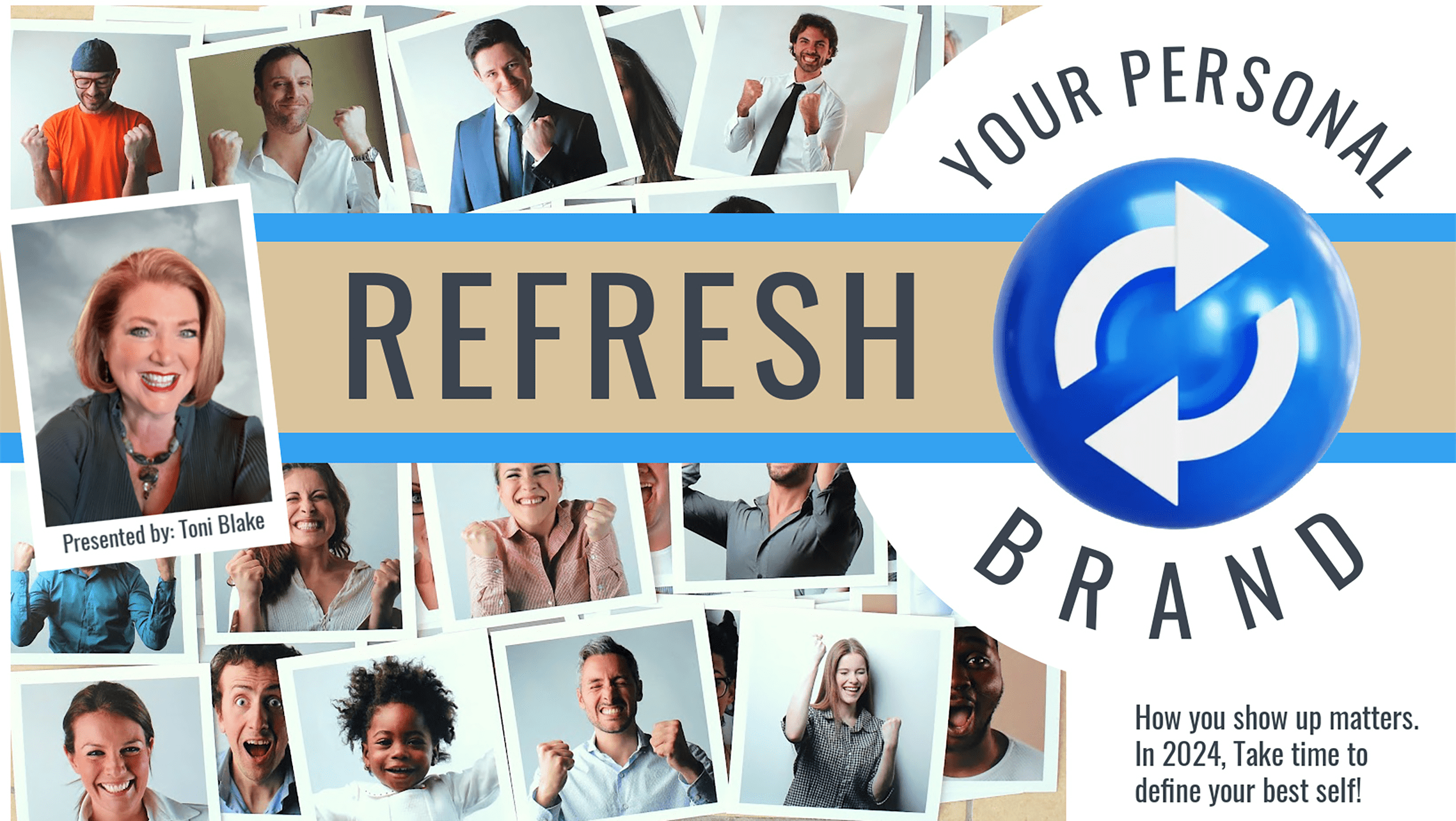 Refresh Your Personal Brand
Always put your best brand forward! You are in charge of the brand called YOU! Once upon a time, a personal brand was built by in-person interactions. Today, your reputation, market value, and future rely on a very intentional digital footprint in LinkedIn, Instagram and video. Your paycheck, performance success, and how others respond, react, cooperate, and participate with YOU depend on a series of critical choices. In this powerfully timed webinar, Toni Blake will show you how you refine your brand. She will outline how to write your personal brand core values and chart your personal brand character development goals. Plus, discover your 3 most meaningful super powers from your circle of influence. In an attention economy, how you show up matters. Let's define our best selves and be intentionally EPIC!
The Drama Curtain
A destructive conflict has a predictable pattern known as the Drama Triangle. By learning how to identify and handle drama, manager's can prevent some conflicts from occurring and resolve those that do! The quality of our relationships and how we deal with challenges plays a vital role for success in the workplace. 30 -40% of manage's time is spent on conflict resolution. Toni Blake will show you a series of simple repeatable solutions, collaboration techniques, resources, and tools to reduce conflict. Learn how to improve communication, see other points of view, understand the human ego and find agreement. Save your precious time and energy for productive collaboration with your team and bring the DRAMA CURTAIN down!
Penny Jar Marketing
Grab your Penny Jar and head for Toni Blake's program filled with creativity with CENTS! Building the perceived value of your community attracts a higher quality tenant. This business is not just about being full, it's about what you are full of! Value is found in much more than just the physical features of your community. Learn how to add value to your community with customer service, resident appreciation, FREE area resources and a creative marketing plan. Learn how to turn a small investment of time and money into huge improvements community quality of life, attract higher quality residents and build loyalty into your current resident relations.
How to Undo Unhappy
Managing One-on-One Communication
An Italian diplomat once said, "Diplomacy is the art of letting other people have your way." This powerful session outlines specific skills for successful diplomacy, communication, and negotiations with residents. Learn the secrets of using voice tone, environmental staging, and body language to turn complainers into cooperative residents! This session will examine the specific communication strategies for email, telephone, online review responses, social posts, and face-to-face. Learn the six elements of an effective apology, the power of micro-expressions, and the body language of authentic listening. This meaningful investment in diplomacy, communication, and negotiation skill-building will positively impact every relationship. Building loyalty through trustworthy communication is fiscally measurable in two vital elements of successful property management, reducing turnover and increasing resident retention. This program is highly recommended as a total team event and is perfect for a Total Membership educational event for an association.
Keys to Greatness
An apartment community is like a small town. You deal with a wide range of issues: legal, employee, corporate, city and federal restrictions, guidelines and policies. "Keys to Greatness" is a wonderfully encouraging program designed to restore your purpose, motivate your spirit and challenge your mind with character building education. This program includes tips on managing the physical assets of the property, with proven strategies for dealing with people, leasing, marketing, customer service, resident retention and the main office. This session is appropriate for audiences looking for a new opportunities that will take them to the next level of success.